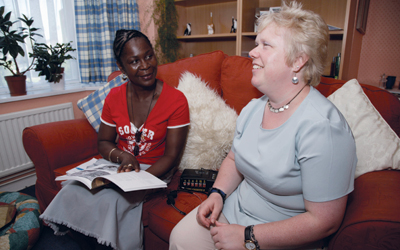 Employers told us that we could help deliver their workforce development objectives by introducing a postgraduate-level social work qualification, which will offer candidates who already hold a first degree the opportunity to qualify more quickly. Through our Postgraduate Diploma, students will be able to qualify as a social worker in less than 18 months2.
Our new qualification will cover children and families, adults and mental health social work with reference throughout to the legal context.  In our fully integrated approach, practice learning is undertaken alongside skills development and theoretical learning. The Programme is work-based and is generally delivered collaboratively with social work employers but in Scotland it can be studied independently with support from an employer.
The postgraduate programme includes a Postgraduate Diploma in Social Work and an MA in Social Work. The PG Dip is approved as a qualifying award for entry to the  register for social workers in England and in Scotland has been approved by the SSSC as it meets the requirements  for registration as a newly qualified social worker.
Geographical availability
The full Masters programme (including the PG Dip) is available for study in England, Northern Ireland and Scotland.  It is approved as a social work qualifying award by Social Work England (SWE), and in Scotland by the Scottish Social Services Council (SSSC).
We have not applied for approval from the Northern Ireland Social Care Council (NISCC), however reciprocal arrangements are currently in place such that any social work qualifying award approved by one UK regulator, will be recognised by the other three. The PG Dip is not currently available to students working in Wales. If you plan to apply for the full MA or the PG Dip in England or Scotland with the intention of working in Wales after qualification, you are advised to discuss this with the relevant regulatory body in advance.
Candidates who already hold a qualifying Postgraduate Diploma in Social Work from another HEI, may be eligible for credit transfer to register directly onto the dissertation module in order to 'top up' to the MA. This option will be available across the UK.
Further information and how to apply
Applications for October 2021 and February 2022 intake have now closed. If you are interested in our programmes, below is some useful information about programme content, entry requirements, fees and how to apply:
Information for employers in England (pdf)
Information for potential students in England (pdf)
Funding options for postgraduate students in England (pdf)
Information for employers in Scotland (pdf)
Information for potential students in Scotland (pdf)
If you're in Northern Ireland or the Republic of Ireland, please phone us on +44(0)28 9024 5025 or email ireland@open.ac.uk
If you are based in Scotland please contact scotland@open.ac.uk or 0131 226 3851. If you are in Northern Ireland or the Republic of Ireland, phone us on +44(0)28 9024 5025 or email ireland@open.ac.uk.
Application and selection process
Forms for new employers
If you are interested in sponsoring a candidate on the Postgraduate Diploma and MA in Social Work programme, or haven't sponsored a candidate on an Open University Social Work programme within the last 4 years, you will need to complete an Expression of Interest Form.  Please email wels-sw-enquiries@open.ac.uk to request a copy.
The university has overall responsibility for ensuring that all students meet the entry criteria and are appropriately assessed.  Sponsors are welcome to carry out their own selection but they are required to seek our approval to do so.  If you wish to conduct your own selection process, please contact the Professional Programmes Admissions Team for advice.  Alternatively, if you would prefer not to become an approved selector but you would still like to interview candidates in-house, it may be possible for us to provide you with our interview and selection materials and you carry out an Assessment Day in conjunction with an OU Social Work Academic.  For further information, please contact us.
For further information on implementing our social work programmes in your agency, the application process and placement requirements, please download our Employer Handbook.
Forms for existing employers
If you are already sponsoring candidates on our Social Work degree programmes, your Agency Coordinator will be emailed a Booking Form for New and Continuing Students in April. If this form has not arrived, please contact us on 01908 654229 or email wels-sw-enquiries@open.ac.uk and we will arrange for one to be sent. 
Upon receipt of your booking form, you will be sent the necessary application and registration paperwork.
Application and Selection Process: Scotland
The PG Dip in Scotland is available to both sponsored and non-sponsored students. Employers wishing to support and sponsor candidates should contact Scotland@open.ac.uk or 0131 226 3851 to discuss your requirements.
Self funding candidates can apply directly for the PG Dip and should contact Scotland@open.ac.uk or 0131 226 3851. It is important to ensure that your employer agrees to release you for 2 periods of practice learning.
Candidates with relevant undergraduate degrees and practice experience are invited to apply.
Academic entry requirements – Documentation required
England: Please check all applicants meet the academic entry requirements before they submit their application. We cannot accept applications where results are outstanding. All applicants must submit a copy of the following documents, to confirm they meet the academic entry requirements, with their application:
Numeracy certificate
English certificate
Degree certificate
IELTS certificate (only if English is not their first language)
Fully enhanced DBS which includes both Adults and Children
If an applicant cannot locate their certificates, replacements may be requested via the following website https://www.gov.uk/replacement-exam-certificate. Original copies of the above documentation will be required if an applicant is invited to attend a Selection Day.
Scotland: Please check with our team whether your combination of academic and practice experience meets our entry requirements before submitting your application.
Evidence of all academic and vocational qualifications will be required at interview.
Numeracy is required - either certificates of SCQF level 5 numeracy or a short numeracy test will be administered.
If an applicant cannot locate their certificates, replacements may be requested via the following website https://www.sqa.org.uk/sqa/212.html