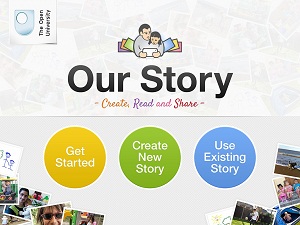 Reading, even in the digital age, is probably one of the most important skills that children acquire. It can be an important source of pleasure which also develops vital language and social skills. It is fundamental to most school activities, it can also open up new worlds and give access to the wealth of human knowledge.
 The Our Story app has been developed by child psychologists and other specialists at the Open University. The app enables young children to take part in fun literacy activities which can help develop important language and social skills.
These web pages have a range of information about
The app was developed by Professor David Messer, Natalia Kucirkova and Professor Denise Whitelock. The advice and creativity of Paul Hogan and Psycle Interactive were vital to the project.