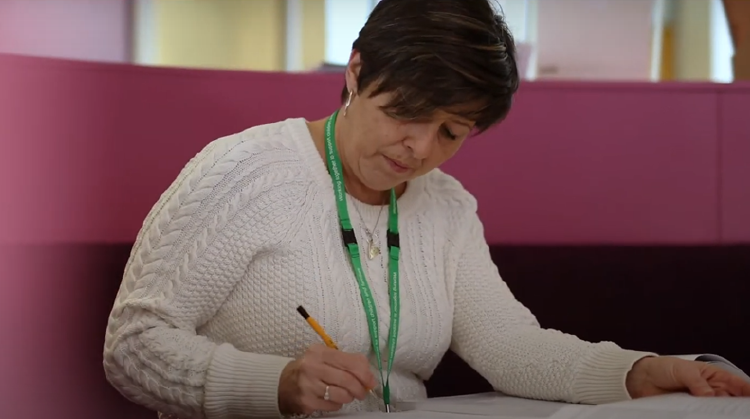 From 8 – 14 February, The Faculty of Wellbeing, Education and Language Studies will be shining a spotlight on our apprenticeships to mark the 14th annual National Apprenticeship Week. 
For over 50 years, it has been the OU's mission to open up education for all.  Since our first degree apprenticeships launched in 2016, our apprenticeship offer has continued to expand.  We are proud to now be the largest provider of Registered Nurse Degree Apprenticeships and Social Worker Degree Apprenticeships in England*, supporting the NHS and Local Authorities to meet their workforce needs.
Apprenticeships are an important part of the OU's commitment to lifelong learning, enabling employers to develop employees from all backgrounds the opportunity to learn new skills while they continue to work and earn.  This enables employers to develop a diverse workforce with the skills and knowledge they need to succeed.
"I think the OU is an important partner because it gives us flexibility," says Dr Mercia Spare, Chief Nurse (Interim) at Kent Community Health NHS Foundation Trust, where the OU's Registered Nurse Degree Apprenticeship and Nursing Associate Higher Apprenticeships are being delivered. "Because it's distance learning, it opens doors to a range of people who would have been precluded from going through a traditional university route.  You can earn and learn, and I think that has been the fundamental positive in how we've worked with The Open University to address some of our workforce challenges."
Ralph Edwards, Principal Social Worker at City of York Council, who are working with the OU to deliver the OU's Social Worker Degree Apprenticeship, comments, "It's really important that we support all of our staff through all of their career in developing their training and skills so they can do they job in the most effective way.  It's about making sure that we have quality staff and that the way we do things is professional."
Our apprentices couldn't agree more about the opportunities that have opened up to them as a result of the OU's apprenticeships. Anthony, a Registered Nurse Degree Apprentice at Northamptonshire Healthcare NHS Trust, says "There are a couple of nurses who are very good mentors and they saw the potential in myself to upskill and they pushed me into realising my own potential. The support from The Open University is outstanding.  When I qualify as a registered nurse it's going to be a very proud moment"
Also benefitting from the flexibility that the apprenticeship route offers, Social Worker Degree Apprentice at Cornwall Council, Annette, says "When the apprenticeship was offered I jumped on it immediately and put my application in because it would enable me to carry on working and learning on the job."
Another reason to celebrate this National Apprenticeship Week is the launch of our new Advanced Clinical Practitioner Degree Apprenticeship, with the first cohort starting this February.  Jacky Price, Senior Lecturer for Advanced Clinical Practice, comments "Advanced Clinical Practitioners have played an important role in providing highly skilled expert clinical care during the COVID-19 pandemic and in leading on reconfiguration of services during these challenging times." 
The Advanced Clinical Practitioner Degree Apprenticeship will complement the OU's current apprenticeship offer, enabling the NHS and healthcare organisations to develop their healthcare workforce to an advanced level.
Find out more about apprenticeships at The Open University on our business and apprenticeships webpage.
*Based on 2019/20 starts. Source: DfE data published Nov 2020