Open University nursing student Grace McAleer, a final year student on the Northern Ireland (NI) Adult Future Nurse Pre-Registration Nursing Degree Programme, and a Senior Nursing Assistant at the Belfast Health and Social Care Trust, presented her work on Female Genital Mutilation (FGM) at the NI Chief Nursing Conference on Thursday 4 May 2023.
The NI Chief Nursing Conference provides an opportunity for nurses and midwives to hear first-hand about new policies and developments affecting the profession. The theme for this year's conference was 'Looking to the Future: Our Nurses, Our Population, Our Midwives' and was attended by staff, students and educators across the health and social care profession.
Grace impressed the audience with her presentation 'FGM: Understanding the problem to improve future healthcare', where she outlined how winning The Royal College of Nursing (RCN) Northern Ireland Gabrielle Award had enabled her to explore her professional interest this area of practice.
The Gabrielle Award, sponsored by Mary and Isabelle Durkan, gives pre-registration nursing students from select universities in NI the opportunity to explore an area of nursing or healthcare they are passionate about with a £500 bursary. Receiving this award made it possible for Grace to fund two trips to London, where she attended The Day of the Girl Child conference, received specialist FGM training and spent a day working alongside Rohma Ullah, the National Lead for Training, Professional Development and Digital at The National FGM Centre. Grace even visited The Sunflower Clinic, a specialist FGM clinic for pregnant and non-pregnant women.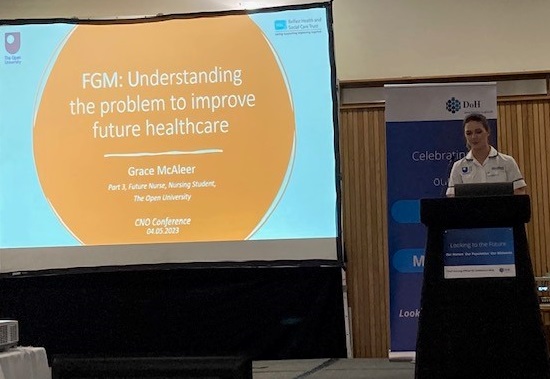 Grace presenting at the NI Chief Nursing conference.
Grace is keen to raise awareness amongst healthcare professionals about the healthcare needs of non-pregnant women living with FGM. During her presentation, she highlighted how there is limited data to inform the understanding of the number of people living with FGM in NI and their corresponding healthcare needs.
Grace's ambition is to have specialist services comparable to those already available in London and Dublin available for a diverse range of people in NI. She has reached out to a range of influential stakeholders to help drive this ambition and continues to seek ways to improve healthcare services. After identifying a gap in curriculum provision, Grace is planning to organise a seminar for nursing students and social work students on women's health, which will include FGM awareness and other topics relevent to the future of the profession.
Grace is a finalist in the upcoming RCN NI Student Nurse of The Year Awards and is considered a rising star within the nursing profession. When she becomes a Registered Nurse, Grace aims to develop her professional practice in the field of women's health. She plans to undertake the Train the Trainer programme offered by the National FGM Centre, and continues to reach out to improve understanding in relation to the prevalence of FGM, strategic policy direction, and service provision to meet non-pregnancy related healthcare needs of people living with FGM.